Leonard J. Garigliano '57, will receive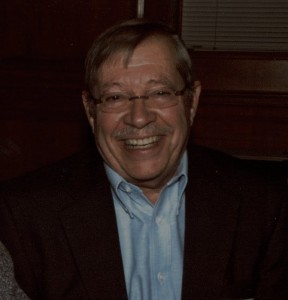 the Ruth S. Harley Distinguished Alumni Achievement Award from Adelphi University during its 117th Commencement on Sunday, May 19, 2013, at 10:00 a.m. at the Nassau Veterans Memorial Coliseum, 1255 Hempstead Turnpike, Uniondale, NY.
When asked to recall his fondest Adelphi memory, Leonard Garigliano '57 couldn't pick just one.  "There are too many," he said. "I enjoyed every minute of my time at Adelphi." Dr. Garigliano, who was involved in a wide array of activities at the University, considers his position as co-president of student government to have been "the ultimate of experiences."
Dr. Garigliano entered Adelphi undeclared, but one course changed everything. "I took biology and said, 'this is where I belong!' Adelphi's professors were absolutely wonderful. They were all dedicated; they were excellent," he said.  He would go on to carve a career in education, and he credits biology professor Warren Eickelberg with turning him on to teaching. "Professor Eickelberg provided such an incredible model," he said. "He taught me so much about teaching, more than anyone had before."
After graduating from Adelphi, Dr. Garigliano spent more than ten years teaching biology and other sciences, at the middle school level. In 1973, after earning a master's degree and Ed.D. from Teachers College, Columbia University, he joined the faculty at Salisbury State College. Over the course of his 24 years at the college, he rose to the rank of professor before retiring in 1997.
Throughout his impressive career in academia, he never forgot his educational roots.  He feels that Adelphi provided him with the personal and professional background to grow into a competent professional with a fulfilling career. His gratitude is what has motivated his support of the Warren Eickelberg Scholarship Fund. "Professor Eickelberg was just incredible," he said. "When I learned a scholarship fund had been established in his name at Adelphi, I decided to help build that fund by supporting it financially through monthly contributions." In addition to this contribution he has also established an endowed undergraduate scholarship to support biology majors who are active on campus. The Leonard J. Garigliano '57 Campus Leadership Scholarship for Biology Majors ensures that Adelphi students, today and tomorrow, will benefit from the same experiences he treasured most during his Adelphi years.
 For more information and the full day's program, please contact Adelphi's Commencement Office at 516.877.4695 or visit Adelphi.edu.
About Adelphi: A modern metropolitan university with a personalized approach to higher learning.
Adelphi University is a highly awarded, nationally ranked, powerfully connected doctoral research university offering exceptional liberal arts and sciences programs and professional training with particular strength in its Core Four—Arts and Humanities, STEM and Social Sciences, the Business and Education Professions, and Health and Wellness. Adelphi is dedicated to transforming students' lives through small classes, hands-on learning and innovative ways to support student success.
Founded in Brooklyn in 1896, Adelphi is Long Island's oldest private coeducational university. Today Adelphi serves nearly 8,000 students at its beautiful main campus in Garden City, New York—just 23 miles from New York City's cultural and internship opportunities—and at dynamic learning hubs in Manhattan, the Hudson Valley and Suffolk County, and online.
More than 100,000 Adelphi graduates have gained the skills to thrive professionally as active, caring citizens, making their mark on the University, their communities and the world.