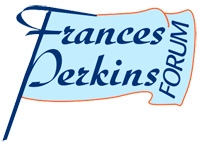 The Adelphi University Ruth S. Ammon School of Education is pleased to present the First Annual Frances Perkins Forum, featuring author Kirsten Downey. This professional development forum for educators, entitled "The Living New Deal in New York," is a two-day inaugural event. The forum will explore the art, theatre and literature of Depression-era New York; integrate the culture and history of the New Deal into common core learning standards; and discover new ways to use media in the classroom. The first day will be on February 20, 2012, from 10:00 a.m. to 5:30 p.m. in Alumni House, 154 Cambridge Avenue, Garden City NY. The second day will take place on February 21, 2012, from 10:00 a.m. to 5:30 p.m. in the Ruth S. Harley University Center, room 313.
In the mid-90s, Downey was primarily writing articles and columns about the American workplace, tracking employment statistics and emerging trends. This work led her to research industrial fires, where she learned about the Triangle Fire and an intriguing young witness to the tragedy, Frances Perkins. As Franklin D. Roosevelt's friend and ally, Perkins would help the president fight the economic ravages caused by the Great Depression and make great strides toward improving workplace conditions. Downey grew fascinated with this middle class woman who lacked both wealth and status, but still managed to become secretary of labor. In 2009, her biography of Frances Perkins, "The Woman Behind the New Deal:  The Life of Frances Perkins, FDR's Secretary of Labor and His Moral Conscience," was published by Nan A. Talese/Doubleday.
As a staff writer for the Washington Post, Downey revealed the ways in which rampant speculation by banks and loan associations in the 1980s led to the collapse of the real estate industry. In 1990, she was named a finalist for the Livingston award for outstanding young journalist in America for her coverage of a widespread fraud in which investors abused government loan programs to buy apartments in low-rent rent neighborhoods, thereby allowing drug dealers to infiltrate the once stable communities. 
In 2008, Downey shared in the Pulitzer Prize awarded to the Washington Poststaff for coverage of the Virginia Tech tragedy. She profiled two heroic professors, Liviu Librescu and Kevin Granata, who died protecting their students.
The program fee is $150.00. Attendees are also eligible for 15 hours of professional development credits. Registration deadline is February 15, 2012. Space is limited.
To register for the First Annual Frances Perkins Forum, visit adelphi.edu/frances-perkins. For more information regarding the Ruth S. Ammon School of Education, please visit education.adelphi.edu.
About Adelphi: A modern metropolitan university with a personalized approach to higher learning.
Adelphi University is a highly awarded, nationally ranked, powerfully connected doctoral research university offering exceptional liberal arts and sciences programs and professional training with particular strength in its Core Four—Arts and Humanities, STEM and Social Sciences, the Business and Education Professions, and Health and Wellness. Adelphi is dedicated to transforming students' lives through small classes, hands-on learning and innovative ways to support student success.
Founded in Brooklyn in 1896, Adelphi is Long Island's oldest private coeducational university. Today Adelphi serves nearly 8,000 students at its beautiful main campus in Garden City, New York—just 23 miles from New York City's cultural and internship opportunities—and at dynamic learning hubs in Manhattan, the Hudson Valley and Suffolk County, and online.
More than 100,000 Adelphi graduates have gained the skills to thrive professionally as active, caring citizens, making their mark on the University, their communities and the world.