by Brett Spielberg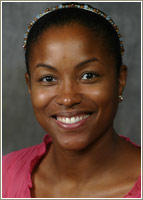 From Adelphi University to Long Island neighborhoods to the halls of Congress, Angela K. Beale, Ph.D., is an advocate for swimming education. As program director of Project Guard: Make a Splash, Dr. Beale teaches children water safety through hands-on training that translates into success in the pool, in the classroom and in life.
"Our motto is 'Take responsibility to save your life as well as someone else's,'" said Dr. Beale, assistant professor in the Department of Exercise Science, Health Studies, Physical Education and Sport Management in the Ruth S. Ammon School of Education. "We teach leadership, social responsibility and, of course, water safety."
On May 15, Dr. Beale will go to Washington to speak at a congressional briefing on the awareness of the drowning pandemic in America and in celebration of International Water Safety Day.
Drowning is the second-leading cause of death among children 14 and under (behind motor vehicle crashes), according to the Centers for Disease Control and Prevention. The numbers are even more disturbing for minority children ages 5-14, who drown at a rate nearly three times that of whites.
Dr. Beale will visit Congress to advocate for a bill drafted by Rep. Chaka Fattah (D-Pa.) that supports the goals and ideals of International Water Safety Day. The bill has been sent to the House Energy and Commerce Committee.
Through her work to educate children and parents in Hempstead on the importance of water safety, Dr. Beale has become nationally recognized. She has initiated grassroots programs in 2008 that can be duplicated across the country:
• End Needless Drowning New York (E.N.D.N.Y.) and Hempstead F.R.I.E.N.D.S. are successful initiatives that introduce swimming to children in Grades 1-8 and provide basic instruction.
• Project Guard: Make A Splash, E.N.D.N.Y. and Hempstead P.R.O.M.I.S.E. teach students in Grades 9-12 the skills to quickly recognize and effectively respond to aquatic emergencies.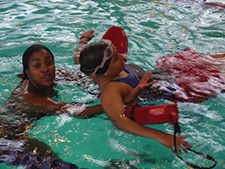 Make-A-Splash students 
Both programs are offered at Hempstead High School through a grant provided by 21st Century Community Learning Centers and are sponsored by Hempstead High School, Adelphi University, the USA Swimming Foundation and the Nassau County chapter of the American Red Cross.
"The way we structure our pedagogy focuses on swimming, but really [we focus] on responsibility, respect and resilience," Dr. Beale said. "We teach skills that translate into helping adolescents in school and, eventually, their professional lives."
Dr. Beale teaches her students to set goals. Instead of focusing only on a long-term plan, she tells them to also focus on short-term goals so they can see progress one step at a time. Students write progress reports to determine where they have been successful and where they need improvement.
"Some students might have dropped out of school had they not been in the program," she said. "I've gotten to see many of them blossom, start taking school more seriously and now succeed in college."
Perhaps someday one of Dr. Beale's students will walk the halls of Congress as well.
About Adelphi: A modern metropolitan university with a personalized approach to higher learning.
Adelphi University is a highly awarded, nationally ranked, powerfully connected doctoral research university offering exceptional liberal arts and sciences programs and professional training with particular strength in its Core Four—Arts and Humanities, STEM and Social Sciences, the Business and Education Professions, and Health and Wellness. Adelphi is dedicated to transforming students' lives through small classes, hands-on learning and innovative ways to support student success.
Founded in Brooklyn in 1896, Adelphi is Long Island's oldest private coeducational university. Today Adelphi serves nearly 8,000 students at its beautiful main campus in Garden City, New York—just 23 miles from New York City's cultural and internship opportunities—and at dynamic learning hubs in Manhattan, the Hudson Valley and Suffolk County, and online.
More than 100,000 Adelphi graduates have gained the skills to thrive professionally as active, caring citizens, making their mark on the University, their communities and the world.