Discussion planned following the HBO Documentary Film Hard Times: Lost on Long Island
The Adelphi University Ruth S. Ammon School of Education announces its second annual Frances Perkins Forum on Wednesday, December 5, 2012 at 6:00 p.m. The program will feature a screening of the HBO Documentary Film and Blowback Productions Hard Times: Lost on Long Island. The movie tackles the subject of unemployment and its far-lasting effects. The screening will be followed by a discussion panel including the movie's producers and some of those profiled in the film. This event, free and open to the public, will be held in the Adelphi University Performing Arts Center (AUPAC) Concert Hall, 1 South Avenue, Garden City, NY.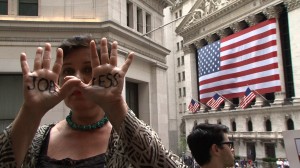 Hitting very close to home, filming took place right in Adelphi University's backyard, in the towns of Hicksville, Hauppauge, Levittown, Long Beach, Massapequa, and Wantagh, to name a few. Profiling four families, during the summer of 2010—which was supposed to be a time of economic recovery for the country—the film shows how these middle-class members of society lost their once-secure jobs and were being shut out of the job market. The movie follows these families over six months from the summer through the holiday season. 
The effect of their long-term employment situation not only touches their financial well-being but takes a toll on their social lives. One of the film's subjects discusses the feeling that unemployment is viewed by others as a contagious disease; another reflects on a spouse's battle with cancer being more socially accepted than being jobless. Many of those profiled have or are in the process of losing their home; some of the families needed to separate in order to take jobs. 
Filmed as a quintessential Long Island story, and shot in diners and locations indicative to the area—the topic transcends the region. The stories of these families, and those in similar situations, have often been portrayed by the media as lazy; this film aims to denounce that idea, and shows the efforts being made by those profiled to regain not only their financial stability but also their personal sense of worth. 
Join us for a light reception before the film at 5:00 p.m. in the AUPAC Lobby. The 53-minute film will begin at 6:00 p.m. and will be introduced by Political Science Assistant Professor Margaret Gray. Stay for a post-screening discussion moderated by Adelphi University President Robert A. Scott; the panel will feature Alan Fromm, profiled in the film; St. Joseph's College Dean and Professor of History & Sociology Richard Greenwald; District Director for Long Island at the U.S. Department of Labor Irv Miljoner; Adelphi University Dean of the College of Arts and Sciences Sam L Grogg; and Professor and Chair of the Philosophy Department Paul Mattick.
This is the second year the Ruth S. Ammon School of Education is presenting the Frances Perkins Forum, named for the University's late professor of sociology and first woman to sit on a United States Presidential Cabinet, as the Secretary of Labor under Franklin D. Roosevelt. Perkins was a forceful voice for the rights of working people and the power of collective organizing. She shepherded many New Deal reforms including unemployment insurance, child labor laws, a minimum wage, and Social Security Insurance. Perkins, one of the most influential women in U.S. history, would become known as the "Mother of the New Deal." For more on the goals of this forum visit, operations.adelphi.edu/committees/the-frances-perkins-forum/.
About Adelphi: A modern metropolitan university with a personalized approach to higher learning.
Adelphi University is a highly awarded, nationally ranked, powerfully connected doctoral research university offering exceptional liberal arts and sciences programs and professional training with particular strength in its Core Four—Arts and Humanities, STEM and Social Sciences, the Business and Education Professions, and Health and Wellness. Adelphi is dedicated to transforming students' lives through small classes, hands-on learning and innovative ways to support student success.
Founded in Brooklyn in 1896, Adelphi is Long Island's oldest private coeducational university. Today Adelphi serves nearly 8,000 students at its beautiful main campus in Garden City, New York—just 23 miles from New York City's cultural and internship opportunities—and at dynamic learning hubs in Manhattan, the Hudson Valley and Suffolk County, and online.
More than 100,000 Adelphi graduates have gained the skills to thrive professionally as active, caring citizens, making their mark on the University, their communities and the world.