by Alison Kohler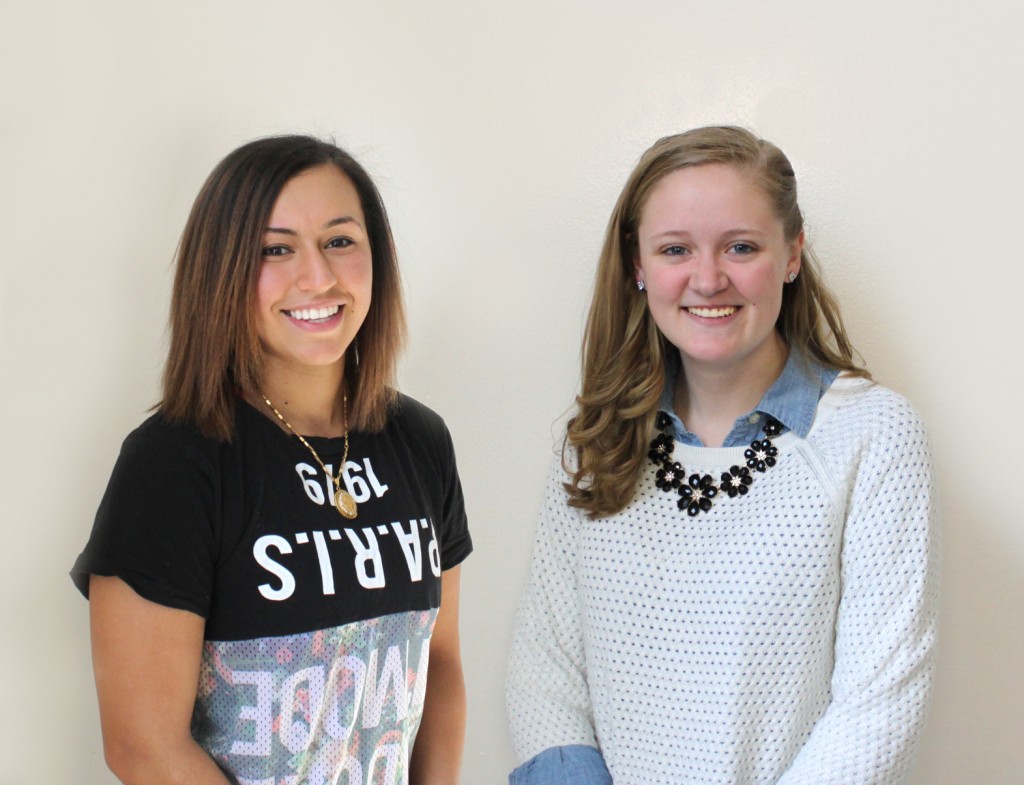 It was entirely an accident that the two women chose to pursue careers in physical therapy. Seniors Nora Elbassiony and Erin Kuchlewski, both majoring in exercise science at Adelphi, are concluding their studies this May in preparation for their continued education within the New York University Steinhardt Doctor of Physical Therapy (D.P.T.) program. And they got their by similar and unexpected routes. After sustaining injuries in athletics, they each decided to pursue careers in physical therapy.
"I've been playing basketball since I was 4 years old," Elbassiony said. "I was a sophomore in high school [when] I slightly tore my meniscus. I was just getting recruited by colleges before it happened."
When she was told she needed an MRI and physical therapy, she said she was reluctant. "I told my mom I wasn't going," Elbassiony said, although that quickly changed. "I fell in love with the people who were rehabilitating me," she said.
Her decision to receive physical therapy is what led her to Adelphi. "The other schools did not have exercise science or pre-physical therapy, so I needed to decide if I would play basketball in college or focus on my future," she said.
Kuchlewski's decision to focus on physical therapy came about after she had already been attending Adelphi. A dancer since age 3, Kuchlewski sustained a tear in the labrum of her shoulder while on the University dance team. "Freshman year, I came in with plans to become a forensic pathologist," she said. "I had shoulder surgery four days before Christmas, and I was in physical therapy for close to 10 months."
She said she enjoyed the achievements of being able to brush her hair and her teeth and not rely on someone else. "It's also about the mental feat that you're gaining your independence back," she said.
Independence achieved: Adelphi's exercise science program provided both students the education and experience they needed to get accepted into a competitive graduate school.
"Adelphi has not only prepared me academically, but it has prepared me in a hands-on way—the classes and experiences offered through the adult fitness program and the CHANGE Program* [to help overweight teens create a healthy lifestyle]. It's [unlike] any other program," Kuchlewski said. "As a physical therapist, you're going to be hands-on every day. Adelphi prepared [me] for that." 
Elbassiony had praise for her professors and fellow students. "I never had a problem when I asked a professor to help me out," she said. "They were always willing to help me. They were able to tell me what was correct or incorrect, and no one gave me the easy way out. No one said I was perfect or that my work was great, because no one is."
The atmosphere and campus were attractive to the prospective students.
A native of Brooklyn, New York, Elbassiony said she was looking for something different.
"I was nervous at first starting at Adelphi," she said. "I'm a city kid. It was a perfect fit for me. The people were different. The campus was not too big or too small. The classes are small, compared with other colleges, and they had my major."
Kuchlewski, who hails from Valley Stream, New York, is the daughter of a pair of proud Adelphi alumni. "They both talked so highly of it," she said. "It was such a great atmosphere, and it has great programs."
Kuchlewski said she is very excited about starting at NYU Steinhardt this summer, noting that the three-and-half-year physical therapy program begins in June, just three weeks after her graduation. "This is my top choice for grad school," she said. "Adelphi greatly prepared me for this. The opportunity is one in a million. I'm very grateful for Adelphi because they've opened my eyes to so many opportunities, and I honestly couldn't thank them enough for it."
Elbassiony said she looks forward to combining her interests in basketball and physical therapy after her D.P.T. program concludes.
"I'm hoping [one day] I can open my own physical therapy facility and basketball clinic," she said.
Although the accidental injuries touched off years-long pursuits, both said they were pleased with their choices, especially the one to attend Adelphi for their undergraduate degrees.
"It's the best choice that I ever made, and I can't imagine my life if I didn't go [here]," Elbassiony said.
Kuchlewski echoed the sentiment. 
"The Adelphi community not only cares about your academics, they care for you as a person," she said. "It is the relationships with faculty and students that facilitate growth of the whole person. I have gained leadership opportunities as a Delta Gamma that I will take with me on my future endeavors."
*The CHANGE Program offers overweight teens, ages 13–18, a foundation for a healthy lifestyle through exercise, nutrition and behavioral modification.
Comprehensive Health Assessment for Nutrition Growth and Exercise
•    Fitness evaluations
•    Nutrition consultations
•    Twelve-week gym membership at Adelphi University's state-of-the-art facility
•    Personal exercise prescriptions
Learn more about the program here.
About Adelphi: A modern metropolitan university with a personalized approach to higher learning.
Adelphi University is a highly awarded, nationally ranked, powerfully connected doctoral research university offering exceptional liberal arts and sciences programs and professional training with particular strength in its Core Four—Arts and Humanities, STEM and Social Sciences, the Business and Education Professions, and Health and Wellness. Adelphi is dedicated to transforming students' lives through small classes, hands-on learning and innovative ways to support student success.
Founded in Brooklyn in 1896, Adelphi is Long Island's oldest private coeducational university. Today Adelphi serves nearly 8,000 students at its beautiful main campus in Garden City, New York—just 23 miles from New York City's cultural and internship opportunities—and at dynamic learning hubs in Manhattan, the Hudson Valley and Suffolk County, and online.
More than 100,000 Adelphi graduates have gained the skills to thrive professionally as active, caring citizens, making their mark on the University, their communities and the world.