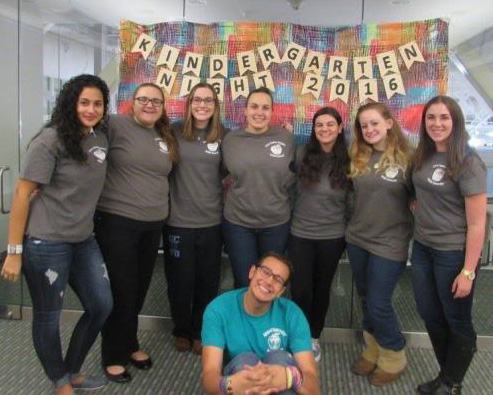 Last year, there were just barely 20 active members in the Future Teachers Association (FTA), an organization for Adelphi students interested in pursuing a career in the field of education. Today, the organization has more than 50 active members, comprised of students who attend nearly every meeting with consistency.
This increased involvement is due, in part, to the devotion and persistence of the FTA e-board. In the Fall 2016 semester, FTA hosted more than 10 events, including a Meet and Greet with faculty members of the School of Education, CARE Wash (in collaboration with CALIBER) through which their organization fundraised $284 for the Caroline Wambui Mungai Foundation, an Education Around the World Workshop (in collaboration with the International Student Society), and the most popular of their bi-annual events, Kindergarten Night. FTA Raised $112.75, also on behalf of the Mungai Foundation, and boasted unprecedented numbers of donated books as well as student attendance.
In the Spring 2017 semester, FTA is planning to host an Autism Awareness Initiative, during which participants will wear blue and arrange themselves into a puzzle piece. This organization also hopes to continue to collaborate more with other on-campus organizations. Here at the STEP Program, we wish FTA continued growth and success in the semesters and years to come!
If you're interested in getting involved, connect with FTA on MyAULife.