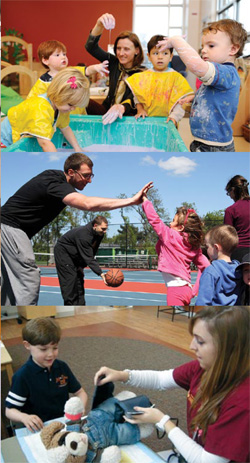 Adelphi University's Alice Brown Early Learning Center has earned accreditation from the National Association for the Education of Young Children (NAEYC)—the nation's leading organization of early childhood professionals. Approximately only eight percent of all preschools and other early childhood programs earn this distinction.
"The NAEYC accreditation system raises the bar for child care centers and other early childhood programs," said Jerlean E. Daniel, PhD, executive director of the organization. "Having earned the NAEYC Accreditation is a sign that the Alice Brown Early Leaning Center is a leader in a national effort to invest in high-quality early childhood education."
"The staff of the center is proud and honored to be recognized by NAEYC as a program of quality," said Laura Ludlam, Director of the Alice Brown Early Learning Center.  "National recognition of our commitment to providing the highest quality care to children and families validates the hard work of a dedicated, creative, knowledgeable professional staff.   The support of Adelphi University to bring all the University's diverse resources to the program has added depth and richness to the center and is instrumental in supporting the professional staff in sustaining a high quality program."
The Alice Brown Early Learning Center has been providing part-and full-day programs for preschoolers for more than 30 years. The facility was dedicated in September 2008 in honor of Alice C. Brown MA '88. The center continues its proven tradition of providing an outstanding high-quality child care program to Adelphi faculty, staff, students, and the surrounding community.
The Alice Brown Early Learning Center provides a wonderful opportunity to parents of children 18 months to 5 years of age. The program builds on the strengths and personal interests of each child utilizing best practices in early childhood education. Complementing the large, bright, well equipped classrooms, the center has auxiliary space for the children to access, including a large central piazza area used for parent meetings and small group activities, an art studio, and student observation booths.
The mission of the center is to offer a high quality experiential learning environment to faculty, employees, students and community families, ensuring an optimal play-based environment is implemented to foster the continued development and learning of all participants. The center believes that an optimal environment is one where learning is rooted in play-based, multi-sensory, language rich experiences that foster meaningful and reciprocal relationships.
The center is part of the Ruth S. Ammon School of Education, and is an experiential learning site for the academic and research needs of the University faculty and student population. For more information on the Alice Brown Early Learning Center visit www.adelphi.edu/elc or call 516.877.3906.